PARTNERSHIP
A long-term, mutually beneficial cooperation can only exist if both sides benefit from such an arrangement. Therefore, my goal is to always establish long-term win-win partnerships for all of the parties involved.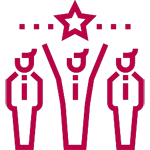 ENTHUSIASM
Our cooperation should be a pleasure for you. I work with a positive mood and always a smile on my face. I don't want to achieve your goal. I want to surpass your expectations and I want you to be thrilled.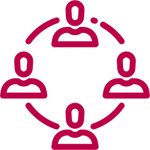 TEAMWORK
A term that is often underestimated, but one of the most important factors for a company's success. Only those who enjoy working together, communicate effectively and can achieve maximum success. That's why working together and having fun, while working hard, is of central importance to me.
INTEGRITY
I believe that a company always has a moral and commercial obligation. Therefore, values such as honesty, fairness, integrity and reliability are a central part of my way of working.